Euromax 5
Production tool for R&D and laboratory purposes for back-contact PV modules.
Flipping
Pre-tagging
Glass lay-up
Quality inspection
Cell positioning
Interconnection
Back sheet lay-up
Euromax 5
The Euromax 5 is scalable to a full-size industrial production tool. The Euromax 5 is widely used in environments where R&D occurs, and new PV modules are developed.
Highest standard in PV-modules
Designed
to
perform
We incorporate advanced automation, robotics and the latest innovation in solar technology to produce the highest standard in PV modules. Premium PV modules of the highest quality with the latest defect rates in the industry.
Fully compatible with:
Cell Cuts
Full and half-cut cells
Panel dimensions
Max. panel size
2,400 x 1,400 mm
Cell types
All back-contact cells
(MWT, IBC, HJ-BC)
Cell dimensions
⁠Cell dimensions at
customer choice
The superiority of the Euromax 5
Innovative cell positioning
Unpilling and placing solar cells is a sensitive process. Eurotron automation distinguishes itself by showing close-to-zero yield losses. How is that possible: first of all by using a special developed ultrasoft gripper system, based on multiple Bernoulli combinations. By this gripper, the cells are picked up, pass a vision inspection and quality control system which is provided with dedicated and smart algorithms. During advancing to the placing position, the cell gripper receives correction information with respect to X, Y and Theda direction, in order to place the cell at its perfect position, allowing an optimal electrical contact as well as the best optical appearance for optical alignment. Cells which are out of specs can be discarded even before placing. The beauty of this system is ONE-TIME cell contact which boosts the reliability of placing and reduces cell breakage.
SolarVision
system
The SolarVision system is one of the key functions in our turnkey production lines. Through the SolarVision system, we guarantee the highest quality solar panels built exactly as designed.
Cutting-edge technology for applying interconnection
The interconnection unit is a high-capacity printing unit which applies solder paste or conductive adhesive on the contact areas of the backsheet foil.
Works with module sizes up to 2,400 x 1,400 mm
On the Euromax 90, both small PV modules and PV modules with sizes up to 2,400 x 1,400 mm can be produced fully automatically. Our advanced technology and latest innovation in solar technology ensures the most reliable and high-quality PV modules with the lowest defect rates in the industry.
Integrated quality inspection
It's important to know whether a PV module meets the strict quality requirements. Therefore, each PV module is assessed for the presence and placement of cells using our smart vision system.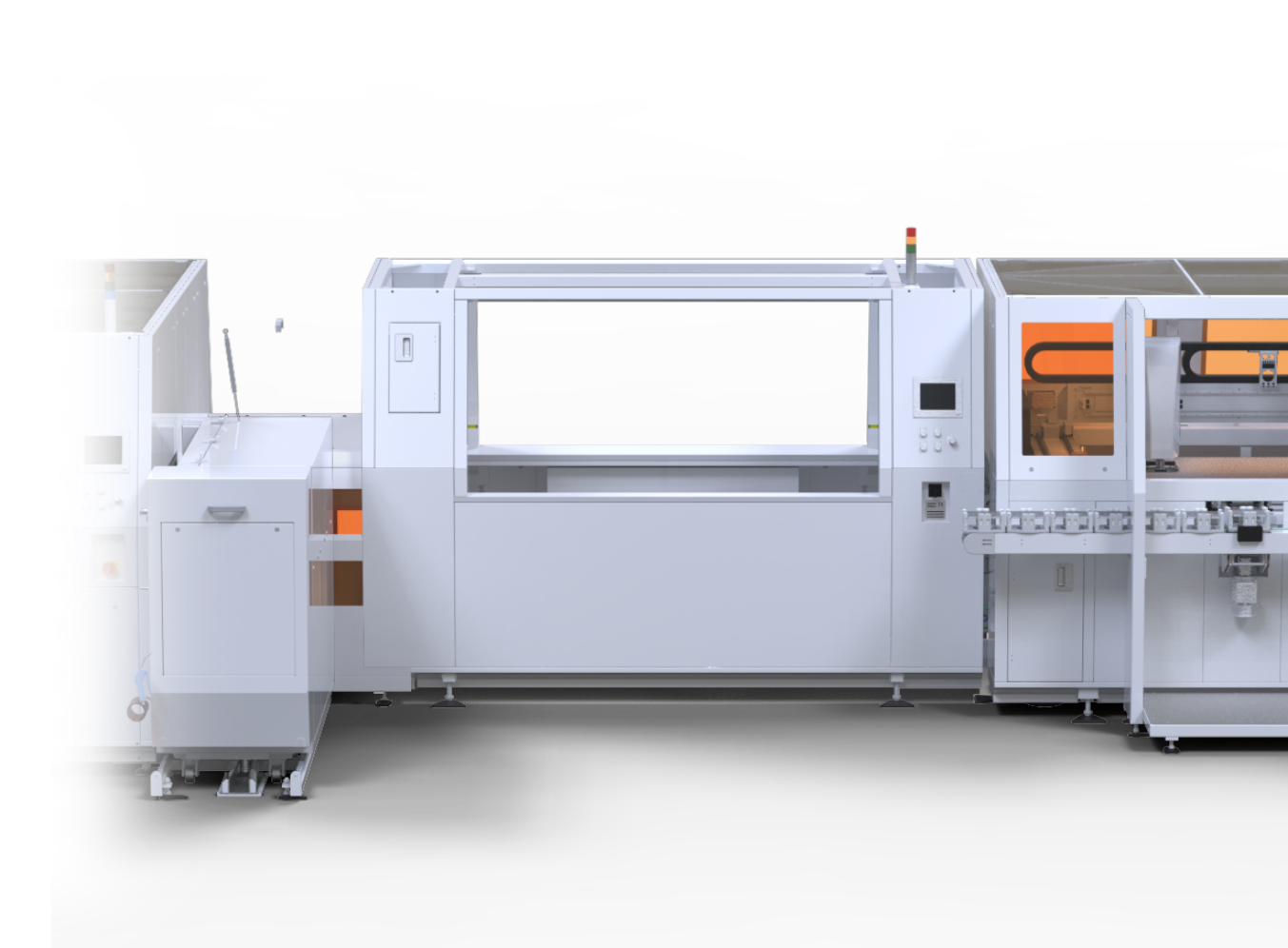 5 PV modules per hour
The Euromax 5 is a production tool for R&D and laboratory purposes with an output of 5 back-contact PV modules per hour. On an annual basis, 14 MWp of total capacity can be produced.
Euromax 90
Full-size automated production line for back-contact PV-modules.

We create technology with purpose adding real value for our customers.
Get in touch
Let's connect to discuss the possibilities for your facility.